How to make healthy drinks at home, when you're limited in time? from Leonida Hill
Welcome.  I need to drink a lot of liquid, as my doctor said. It is very good for my body. But I am always in a hurry and don't have enough time for making the cocktails or some interesting beverages.  Nevertheless, I like them so much, and sometimes my roommate cooks it for me. I noticed that she puts much sugar in her drinks, so they are not healthy. I dare say, cocktails are even harmful to my health. But I still don't have time to try my own healthy drinks. Besides, I have no idea what component would go with each other.
So, to be honest, I don't want to drink only water, or tea, or coffee, or milk – I want to have a varied menu of beverages, so that's why I am here – what recipes of drinks can you recommend me? They can be based on that drinks that I have already mentioned or you can offer something else, I am not afraid to try something new. I'm planning also to teach my friend how to make healthy cocktails, without so much sugar in it, as I usually have no time to cook.
Waiting forward your recipes. Thanks for your help!
3 Answers
Best Answer
Hello Lorry! You can try Sparkling cherry lemonade. The easiest, budget-friendly lemonade that you can make in just 15 min. No simple syrup needed!
You need:
2 ounces cherries, pitted
3/4 cup freshly squeezed lemon juice
2/3 cup sugar
4 cups sparkling water
To make the cherry syrup, combine cherries, lemon juice and sugar in blender until smooth. Place in the refrigerator until chilled.
Serve over ice and sparkling water.


I have tried this for a week, really quick and easy!
Raspberry-Strawberry smoothie
Ingredients:
one and a half cup of strawberries
1 cup of raspberry
1 orange
1.5 cups of coconut milk
2 medium carrots
half beetle
Preparation:
Cut all the vegetables into pieces, throw them into the blender bowl and add all the other ingredients. Mix until smooth. Bon Appetit!


Banana-vanilla smoothie with turmeric
Ingredients:
2 ripe bananas
 5 oranges
 a few slices of pineapple
 1 pinch of turmeric
 1 tsp. of vanillin
Preparation:
Cut the fruit into small pieces and put the mass to the blender bowl, add vanillin and turmeric. Beat to a uniform consistency. You can also skip the ingredients through the juicer, and get a fruit smoothie with less pulp.


Kiwi-strawberry smoothie
Green Layer:
3 peeled kiwi
1 banana
 half a cup of thick yogurt without additives
 1 cup spinach
 1 cup of coconut milk
 Pink Layer:
1 cup of strawberry
1 banana
1 cup of coconut milk
 Preparation:
 Whisk all ingredients in the blender for the green layer in a homogeneous consistency. Then in a separate container, mix all the ingredients for the pink layer. Pour the drink into a glass with layers, adding pieces of fresh strawberries.


Berry Trio smoothie
Ingredients:
1 cup of strawberry
 a third of a glass of raspberry
 half a glass of blueberry
 2 kiwis
 1 cup of orange juice
Preparation:
Peel and grind the kiwi. Put all the ingredients in the bowl of the blender and whisk at high speed until you get a homogeneous mixture. Decorate the drink with berries and kiwi slices.


Carrot-mango smoothie with kiwi
Ingredients:
1 cup carrot juice
  1 cup of mango cut into slices
 2 kiwis
 Preparation:
Cut the kiwi and mango, put the fruit in the bowl of the blender and fill it with carrot juice. Mix the fruit to a uniform consistency and pour into glasses.


Smoothie "Hulk"
Ingredients:
1 cup spinach
2 bananas
2 kiwis
1 pear
1 avocado
400 ml of water
Preparation:
Add the spinach and water to the blender, whisk until smooth green consistency. Cut banana and kiwi into pieces, put it in the bowl and whisk once again. Then add the pieces of the pear and grind it to a homogeneous, delicate texture.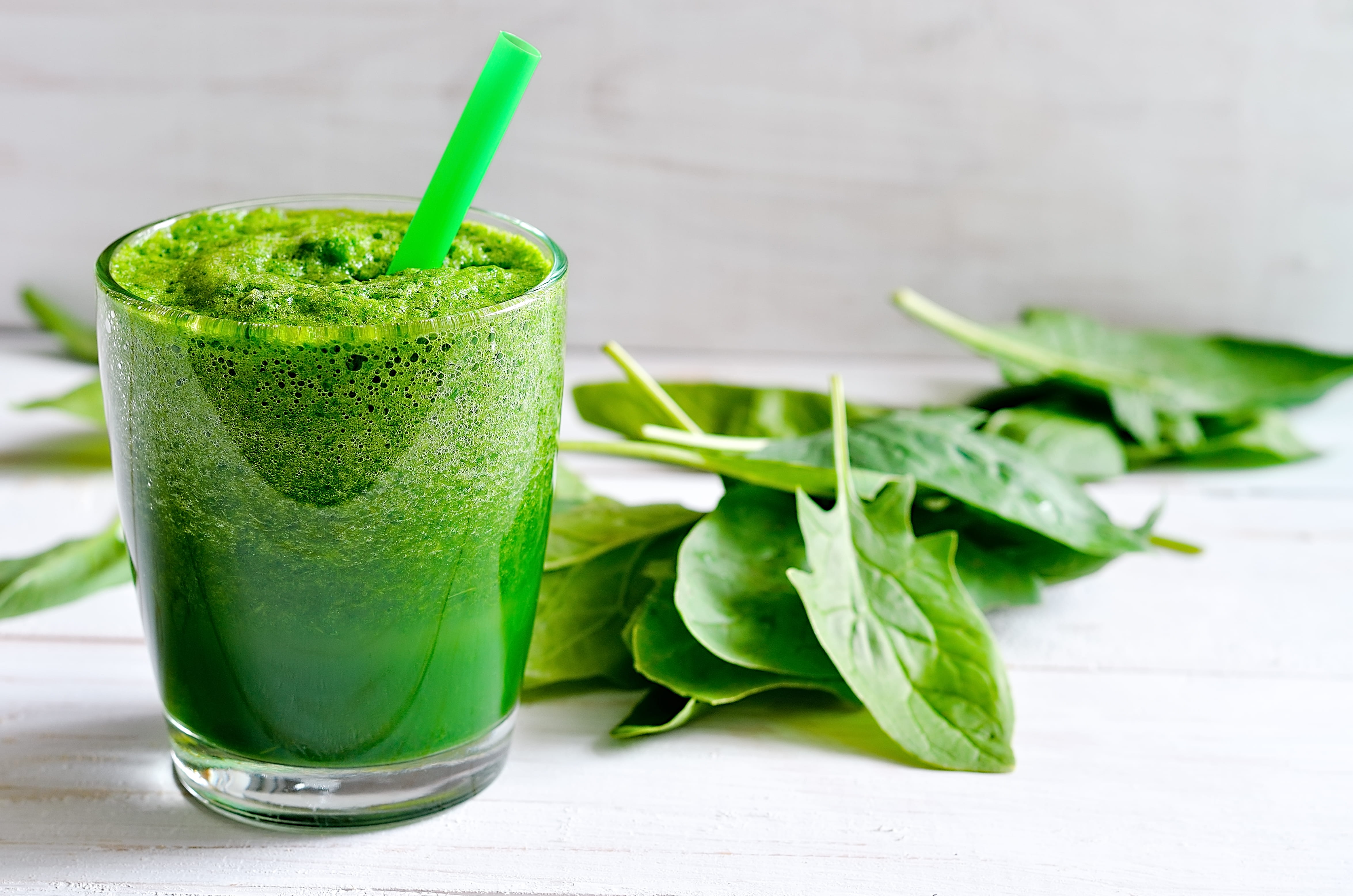 Beet-raspberry smoothie with ginger and mint
Ingredients:
a third of a glass of raspberry
1 apple
1 tbsp. l. honey (or agave syrup)
2 small beets
250 ml of water
1 stem of mint
ginger for decoration
Preparation:
Cut the beets and cut into cubes, peel the apple and chop it into pieces. Put the raspberries, beets and apple in the blender bowl, add honey, mint and water. Blend for 2-3 minutes at a high speed until smooth. Garnish with pieces of ginger and mint. Lovers of piquant aftertaste can add a little ginger in smoothies!
Blackberry smoothie
Ingredients:
 3 cups of blackberry
 1, 5 cups of ice
 half a glass of coconut milk
2 tbsp. of lime juice
5 tbsp. of honey
Preparation:
Mix coconut milk, honey, blackberries, lime juice and ice in the blender until the structure of the drink is obtained. Decorate smoothies with blackberries or mint stems.
Detox smoothie with pineapple and dates
Ingredients: 400 ml. water
 1 cup pineapple pulp
 1 cucumber
 1 lemon
 12 dates without seeds
 Preparation:
Peel the cucumber and cut into pieces. The lemon zest is peeled off. Mix all the ingredients in a blender until smooth.
Smoothie with green tea and cranberry
Preparation:
 half a glass of cold green tea
 half a glass of cranberries
 1 cup of strawberry
 1 banana
 1 tbsp. of honey
 Preparation:
 Place all the ingredients in a blender and mix until smooth.
Coconut smoothie with cherry
 Preparation:
 200 ml of water
 100 g of pineapple
 150 g of cherry or sweet cherry
 2-3 tsp. coconut chips
 1 tsp. of vanillin
 half a tea spoon of grounded cinnamon
 Preparation:
Mix all the ingredients in the bowl of the blender and whisk until smooth.
Smoothie «Black Vanilla»
Ingredients:
3 bananas
 half a glass of blueberry
a pinch of vanillin
 Preparation:
Put the bananas in the freezer for several hours. Put the frozen bananas and vanilla in a blender, blend well and divide this mass into 2 parts. Mix one part in a blender with blueberries and spirulina, leave the second untouched. Pour smoothies into a tall glass or a special jar with layers, adding chia seeds between them. Decorate the berry smoothie with fresh blueberries.
Hello, dear!
I truly understand you. That's why I have for you some recipes for drinks. Tasty, healthy and easy to make. What can be better? First of all, I must say, that you need any blender for mix ingredients you have. But if you do not have any, I recommend you make lemonade. Really very easy. You just need sparkling/still water, lemon, strawberry, and ice. Also if you want, add a little bit of mint. For prepare just put ice in cubes, pour water into large capacity and add fruits. Please note, that you can choose iced strawberry.
This lemonade can tone up you in hot days or has simple refreshing effect in any day.
Speaking about another nutrition and good drink. If you have a squeezer, you can make home-made juice. If it will be very sweet, you can add more water. The best juice is from apples and oranges. In this case, just try to mix. For example, I just love home-made carrot juice. And of course, you can make shakes. Just mix in blender all berries you have, add a little bit ice and water. Amazing taste.
So, as you can see, it is really easy to cook.
Hope you will like it 🙂
Please login or Register to submit your answer