In the Instagram, which today is nothing more than a virtual projection of the modern world, there are very few profiles that would attract for infinite viewing and at the same time were not staged, which are being created by teams of professionals.
One of them belongs to the Australian runner Michelle Jenneke, Australian runner, who conquered the world by dance.
Michelle – has some kind of supernatural magic of attraction, the secret of which probably lies in the combination of sporty appearance, female and colorful positive emotions that generously adorn her smiling face. The story of its media success is non-standard and was not the result of targeted efforts. All that was required of her was just to be herself: immediate, athletic and feminine. The story of its media success is non-standard and was not the result of targeted efforts. All that was required of her was just to be herself: immediate, athletic and feminine.
In this article, we have gathered facts for you from the biography of Michelle Jennecke, photos and viral videos that made her popular. Good mood to you all!
Michelle Jenneke
Personal data
Height: 172 cm
Birthdate: 23 June 1993 year
Country: Australia
Wikipedia: Michelle Jenneke
Instagram: @mjenneke93
Sports achievements
Sports kind: obstacle race 100 m
5 place – 2012 year World Junior Athletics Championships in Barcelona
2 place – 2010 year Summer Youth Olympic Games in Singapore
Personal best – 12.82 seconds
Michelle Jenneke warm-up, that made her famous
In 2012, during the junior athletics competitions in Barcelona (2012 World Junior Championships in Athletics), a girl was "warming up" in a video camera of reporters in a very unusual way: while her opponents nervously twitched their limbs, trying to relax and concentrate on the upcoming race, she performed movements very reminiscent of a dance with a beaming smile on her face …
It was 19-year-old Michelle Jenneke from Australia. In those competitions, she took the 5th place, but this was only the beginning of her career …
Instant fame
Michelle became known in a few days: someone uploaded her impressive workout to the Internet. Over the evening, the video received several thousand views, and a week later – already 19 million! It became so popular that it even got into the news feeds of leading news agencies and was noted in several popular television shows.
Michelle Jenneke became an Internet sensation: many began to repeat her dance, share a video of her hot workout and create memes.
On her Instagram page, numerous fans (most likely male) left comments like: "I can look at how she dances, forever …".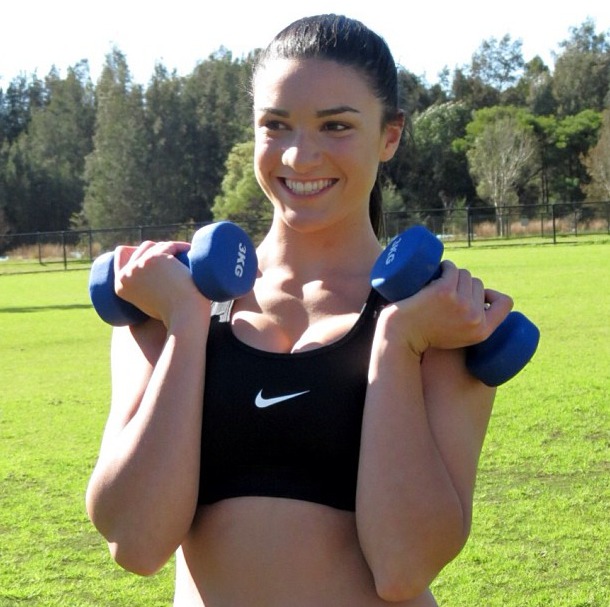 Dance is a regular warm-up for Michelle Jenneke
Very quickly, Michelle began to appear in an interview with an enviable frequency. In one of them, she revealed a secret: the dance was always part of her warm-up before the race. And during the warm-up, she usually not only dances but also sings to herself. Her favorite song is We Found Love Rihanna.
In another interview, Michelle Jenneke said that it was not something that had been planned in advance. She is always warming up like dancing, and this time someone uploaded a video to YouTube.
From her point of view, it was just fun and casual, but the Internet audience gave the highest rating: she received millions of views. They even say that the website on which the video was uploaded was originally "laid down" from too much load.
Since then, Jenneke's life has changed: in addition to regular workouts, she had to start and regularly maintain pages on Facebook, Twitter, and Instagram. The number of subscribers on Instagram quickly reached 450,000.
Way from runner to the model
Representatives of the modeling business very quickly appreciated the incredible potential hidden in the fiery Australian with excellent external data.
Michelle Jenneke appeared on the covers of various fashion magazines around the world and took 10th place in the ranking of the "Most Desired Women of 2013" of the men's online publication Askmen.com.
Michelle realized that it was her finest hour. Today, the runner Jenneke is one of the most famous Australian models.
In 2013, the magazine Sports Illustrated invited Michelle to film for 2013. At that time, it was difficult for her to hold back the joy, and according to her words, she "seemed to be in a fairy-tale world that is possible only in dreams.
The shooting was excellent and Jenneke got into her piggy bank a few more fans of her natural talent in the face of the crew.
Own mobile app
In 2014, Michelle Jenneke released the Stretch with Michelle Jenneke mobile app.
It became popular among athletes and contained safe stretching techniques. She herself took part in an advertising campaign, actively communicating with users and helping them use the application with maximum benefit.
In the media, Michelle began to increasingly appear as an expert in sports.
Participation in the Commonwealth Games in 2014
Commonwealth Games – international competitions from the countries of the Commonwealth of Nations (Great Britain and mainly its former colonies), which are held every four years
In 2014, Michelle took part in the Commonwealth Games 2014. Despite the fact that she took the 5th place, her popularity grew even more. She was proud to be the 2nd fastest runner in Australia. Moreover, she was still very young and was still ahead.
Popularity in Australia
Michelle Jenneke is very popular not only in the world, but also in her homeland in Australia: she is met everywhere with open arms.
She was a guest at one of the episodes of the Top Gear television show in 2014, in which her task was to overtake a sports car. It was not possible to do this, but the audience, of course, rejoiced at her presence. You can see this in a video below.
Preparing for an Australian runner competition Michelle Jenneke is no different from other athletes: regular running and training at the gym. On the day of the competition she always runs before the start. He tries to maintain inner calm and to be focused. At the start, the excitement overwhelms.
The failure at the Rio 2016 Olympic Games. Сriticism of Michelle Jenneke
Before the start of the Olympic Games in Rio de Janeiro in 2016, Michelle Jenneke was already famous: she became the star of the Coca-Cola advertising campaign.
At the competitions in the run with obstacles at a distance of 100 meters, the athlete took the 6th place with a time of 13.26 seconds and, unfortunately, did not reach the semifinals.
After this unsuccessful performance from the point of view of the medals, she received a fair amount of criticism.
In particular, distinguished Jana Pittman – another Australian, world champion in the run with obstacles. She noted:
"Yes, it was a little disappointing night for her. We often associate fame with an automatic chance of medals … this poor girl was entrusted with the expectations of the whole nation and the world, but she has not yet reached a level to be able to justify them."
Michelle's answer was discreet:
"I was in great shape to win today. I was really well prepared. It just didn't work. It's always easy for people from a short moment when you get on the track. And success determines a huge number of factors. "
Due to the negative assessment of professional athletes and fans, Michelle stopped receiving financial support in her country as an athlete.
Her head coach, Craig Hilliard, commented on it this way: "she did not achieve the form in which she could and should have been." He also pointed out that Michelle Jenneke is not devoted enough to her career.
Well, they kicked out of the sport and had to do something that worked out well by itself 😉
Michelle Jenneke took part in the filming of a short comic video released by one of the relatively well-known comic sites The Chive.
In the video, which is called "Forever Alone", Jenneke plays herself. The video gained incredible success on the Internet, and by 2017 it gained more than 10 million views on YouTube and other platforms.
"I'm not trying to draw attention to myself .."
After a wave of unpleasant events related to the unsuccessful performance at the Olympics in Rio, Jenneke became stronger and more confident.

"People think that by performing my dance, I try to draw attention to myself. But it's not like that. It's just what I always do when I'm at the start.

I am not going to change myself or my habits simply because people perceive it in their own way. I know that when I go to the start, I spread everything out to the full, at 100%. If I am satisfied with myself and with my preparation, then I try not to allow someone's opinions to hurt me. "
In a recent interview with the sports magazine Fox Sports, she answered a question about her fame: "There is nothing I would regret. What was, was really amazing for me. It helped me to make a name in sports, which is an easy task for athletes. "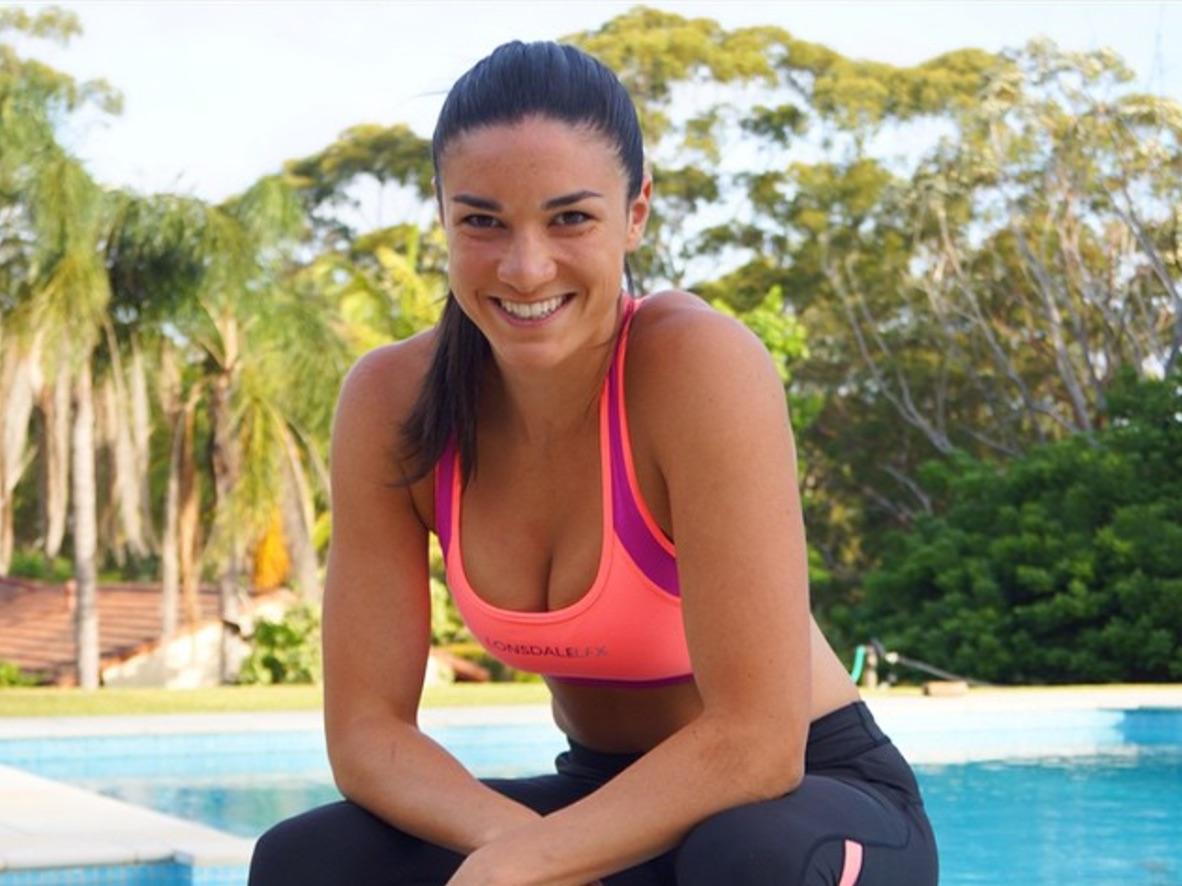 Since childhood girl was a fidget
In one of the interviews, Michelle talks about her childhood and says that she has always been an active girl who loved "always and everywhere to jump, without any fear at all." The first time she took part in the competition in the run with obstacles in 9 years. These were club competitions in the children's athletics center.
According to her, sport "is all for her and all her hobbies are somehow connected with it."
By profession Michelle Jenneke is an engineer
Despite his fame as an athlete and model, Michelle Jenneke is an engineer by education. She studies mechatronics — the science of combining electronics with mechanics — at the University of Sydney.

In addition to his career, Michelle finds time for his family and charity.
On her pages in Instagram photos with orphans from Africa, the disabled and her nephews.
In Africa, she spent more than two months with other volunteers from other countries of the world and was engaged in educating children and feeding them.