W​hat rower is number one on my list of approved rowers to buy? No doubts, it is the Concept 2 model D indoor rowing machine. I'll tell you why.
If you choose the best for you, it concerns all spheres of your life, right?
The Concept2 brand is considered one of the top rowing machine brands in the modern market. Pro sportsmen, advanced users as well as beginners choose the popular Concept2 models.
In this article, we give the overview of Concept2 model D with PM5. Check the simulator in black and light grey colors for sale
Concept 2 model D indoor rowing machine
Concept 2 model D review will make your choice easier.
This indoor rowing machine race simulator is a perfect choice for those who want to always maintain the shapes and keep the body in tonus.
5 things that make people buy it
With reliable and comparable workout data, you can easily control your progress. As workout options comprise time, distance and intervals.

It also includes wireless Bluetooth and ANT+ unity for heart rate monitoring or apps, and even games.

With the help of a backlit LCD display, that is easy on your eyes, you control your progress and stay motivated, connecting with a broad variety of your favorite fitness apps.

Different online rankings allow you to compare your results with others. For example, free ErgData app records and stores exercise routines on your smartphone.

PM5 performance monitor and flywheel designed are made for your convenience.
In general, the Concept 2 row pro is suitable for the full body workout, training front legs, arms, abs, chest, back and buttocks.
Concept 2 model delivers an effective cardiovascular workout. It is up-to-date exercise equipment, that conquers with the best machines in the world.
Check the technical features
Product Dimensions: 96 x 24 x 44.5 inches ; 57 pounds

Machine weight: 57 lb (26 kg)

Seat Height: 14 inches

Batteries: 2 D batteries required (included)

Warranty: 5-year frame warranty included

Space advised for use: 9 x 4 feet

Shipping box: 15 in x 21.5 in x 56 in (38 cm x 55 cm x 142 cm)

Shipping weight: 70 lb (32 kg)
In fact, you are able to control not only your workout intensity:
But also the airflow with a simple adjustment of the damper, that levels 1-10. Concept2 model D used rowing machine workouts provide you with smooth feelings and minimum noise. The advantage is that air-resistance flywheel reacts to each stroke.
After workouts, the rower is quite easy to move for storage.
Check also the difference between Concept 2 model D vs E.
Concept2 model D indoor rower is intended to provide a highly effective cardiovascular workout at an affordable price. It is commercial-grade for home use as well as at the gyms. You can also try the new Concept rowing machine Australia or the bodycraft USA.
Why choose Concept 2 model D pm5
The rowing machine is a perfect simulator for aerobic or cardiovascular fitness. That is a type of physical activity when exercises of moderate intensity are performed for a long time.
What happens during the training?
The number of heartbeats increases and breathing becomes more frequent. Such workouts are the best way to burn subcutaneous fat. Do not forget to buy the Nickel Plated for your workouts.
Other factors also speak in favor of aerobic exercise. During these activities, the body is saturated with oxygen, activates the process of metabolism.
As a result of aerobic training:
Another important point:
Aerobic training can be performed to the music, which allows you to enter into the wide range of exercises dance elements. Check also Gacyanne Barbosa dance for more ideas.
Aerobics is suitable for both men and women, children are happy to do it, which means that this type of fitness is suitable for the whole family. The simulator is quite easy to assemble.
For many exercises, special equipment is not needed, so they can be done everywhere: at home, in the park, in the yard, in the country.
Check other Concept2 fitness equipment
Cardiovascular fitness
Cardiovascular or aerobic training increases your heart rate and breathing rate into the various intensity levels for 10 minutes or more. Regular cardio activities are brisk walking, running, cycling, swimming, rowing, and cross-country skiing.
What are the benefits of cardiovascular fitness?
Aerobic exercises burn fat
It is true, fat does not start to burn immediately, but only when glycogen stores are consumed. During the first 20 minutes of workout fat almost does not burn. And only after 40 minutes of exercise fat becomes the main source of energy.
During workouts, a lot of calories are burning
In case you follow the diet, you can lose weight. What is the catch?
It would seem that you run 40 minutes a week and lose weight. But the fact is that the body very quickly becomes accustomed to aerobic exercise. After 2 weeks you will spend considerably fewer calories on a half-hour run than at first.
Losing weight using only aerobic exercise is very difficult
During the first month, in case of regular workouts and dieting, you can lose 2-3 kg. Then the process will slow down as your body get accustomed to the training.
The impact of low and medium intensity training differ from the more intense loads:
Light and medium aerobic loads involve mainly the cardiovascular system (therefore they are also called cardio workouts).

High-intensity aerobic workouts give the load not only to the heart but also the muscles. Since they are no longer aerobic in their pure form. Rather, they can be called complex.
If we talk about the "pure" aerobic workouts (see platform Benlet), they contribute not only to the fat burning, but also the loss of muscle mass, which is highly undesirable. "More" does not always mean "better."
With aerobic exercise, it is important not to overdo it!
Studies have shown that hormonal changes begin after about an hour of aerobic exercise. Thus, the optimal duration of aerobic exercise should not exceed 1 hour.
At the same time, the benefits of cardiovascular fitness for health are obvious:
Increase the overall body endurance
Prevent cardiovascular diseases
Help to cleanse the body of toxins
Promote the skin cleansing
So, we have considered the main features of aerobic (cardiovascular) and anaerobic (strength) exercises. Now let's talk about how to combine these two types of exercises to get the maximum effect depending on the training purpose.
Due to the effect of aerobic exercise on the body, the optimal duration of one workout should be from 20 minutes to 1 hour. Training, which includes only aerobic exercise, is suitable for two purposes:
Maintaining a stable weight, preventing cardiovascular diseases and strengthening health.

Fast one-off weight loss by several kilograms.
To maintain a stable weight, prevent cardiovascular diseases and maintain health:
For a quick one-off weight loss by several kilograms:
Therefore, do not skip workouts and do not neglect the diet.
Upon reaching the result, it is recommended to choose any training program designed for long-term use, and follow it, not forgetting about other components of a healthy lifestyle (proper nutrition and body cleansing).
How often should you do cardiovascular fitness?
It is better to perform aerobic exercises in the morning. At this time the metabolic processes in the body are accelerated under the influence of activating hormones.
In the morning, fat burning will be much more intense.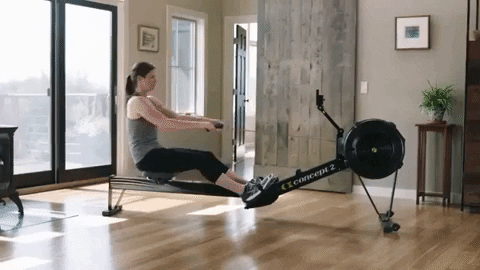 Training should begin with a 10-minute warm-up, and the exercise itself should last at least 20-30 minutes. At this point, the process of burning fat starts in the body.
Gradually increase exercising time. A 40-minute workout will be quite enough, the maximum set time is 1 hour. Remember: the more intense your movements, the more actively the fat is burned.
At the initial stage, you can practice 3 times a week.
And then when you get a taste and see the result, most likely, the desire to perform aerobic exercises will become daily. Do not stop it in any way – exercise, improve your mood, gain strength and lightness!
What you need to know about aerobic training
While long beach rowing, you need to monitor the pulse. Normally, it should be 60–70% of the maximum. The upper limit of the permissible norm is determined by the formula: (220 – age) * 0.7).
2 hours before a workout, do not eat.
There are old proven principles: less flour and sweet, more vegetables and fruits. It is also necessary to monitor the volume of servings.
History of rowing in Australia
How does the World Rowing Championship was held?
The thought had been presented at an worldwide level sometime before the first such championship was held in 1962. The World Championship itself was considered by a previous President of FISA, Gaston Mullegg (SUI). Let's see the main points of histoory.

Everything began when the President of the American Federation revealed the hope that the World Championships would be established by 1958. Then, at the FISA Congress, it was proposed that the competitions will be arranged within the next 4 years, and the members collectively commanded FISA to continue the probability of this project.

More discussion was held at the 52nd FISA Congress and the Americans suggested they hold the first world championship in Philadelphia, inviting the first 2 in each event from the European championships.

The Romanian and Soviet federations, however, hoped that every nation would have the chance to enter, irrespective of its European championships performance. The agreement was not given and the debate postponed.
The Americans retreated from organizing the 1958 World Championships In such a way, FISA was to draw up emergency plans, but they were put on hold following the tragic death of Gaston Mullegg, FISA President, in an airplane accident. He never lived to see the introduction of the world championships which he had so strongly promoted.

Finally, at the FISA Congress, it was agreed that World Championships would be handled. Final approval for the holding of such championships every four years was postponed until 1961 to give all federations the opportunity to make their views known.

Then the election of Thomas Keller to the FISA Presidency was observed. In his book, The Story of World Rowing, Christopher Dodd writes that the chance put Keller into the chair at a time when survival and amateur rowing required some hard decisions.
What is the outcome of History of rowing in Australia?
In 1961 the FISA Congress decided that the World Championships would be held every 4 years. The Championships for free men were conducted every four years from 1962 until 1974 when, thereafter, they were held annually, except for Olympic years. World Championships for women commenced in 1974 and have likewise been conducted every year except in Olympic years.

So finally, World Championships for lightweight men and women were primarily carried in 1985 and have been held annually since then. FISA Championships were held annually for lightweight men from 1974 to 1984.